Knox Church…………. where past meets present.
Knox Presbyterian offers a stone construction church built in 1873, perfect for both religious and non-denominational wedding ceremonies, with seating capacity for up to 400 guests. The church is situated adjacent to the Elora Centre for the Arts, one block away from Bissell Park on the banks of the Grand River.  The lower level of the church (The Fellowship Hall) offers seating for up to 100 guests and is equipped with a full service kitchen for providing light lunches and prepared meals.  It is convenient for a post rehearsal get together or receptions in an intimate setting.  The church sanctuary features historical windows, a large pipe organ and baby Grand piano which play into the church's incredible acoustics.  It also includes a 1,100 lb. bell which can be rung (optional) when the bride and groom step out onto the front lawn through the antique, double front doors.  When you think of Elora & Fergus – you think of the dramatic beauty of the Elora Gorge, world class festivals, a haven of arts and culture, all with a heritage river running through it. Elora & Fergus are places where the past meets the present. You can enjoy a summer day on the banks of the Grand River or flavour the artistic community that flourishes here.  The village of Elora is conveniently situated less than a one hour drive from Kitchener, Waterloo, Cambridge, Guelph and Toronto.
If these walls could talk……………
Knox Church, Elora, was founded in the settlement of Upper Nichol Township known as Bon Accord, in the year 1837. In 1838, a log church was built on land donated for that purpose by Mr. & Mrs. George Barron from the north corner of their farm. Services were held there until 1850, when a frame, rough cast building was erected on the same site as the present church. The stone building now standing today was constructed in 1873.
Flavour the experience……….. Treasure the memory
Experience the flavour of a wedding steeped in the tradition of a historical church. At Knox Church we not only hope to meet your expectations, but exceed them by providing a clean, fully serviced facility with links to local support providers. Fergus and Elora provide a cultural vibe that radiates through the communities, unique shops, historical and culinary walking tours, a wide variety of dining experiences including some of Canada's most celebrated chefs, and through it all, our Bed & breakfast hosts and innkeepers will pamper you on overnight stays in quality accommodations. Check out the "Elora & Fergus" website for more local details.
Also, check out this page –  "Planning Your Wedding Day" – for additional information on spectacular local venues, culinary experiences and tours, that will add a special touch to an unforgettable wedding in Elora.
After your memorable wedding at Knox-Elora, the community is a beautiful place for wedding photos or videos too.  Check out our community with this video of Elora by The Mortgage Centre & CinemaStyle.ca
Wedding Photos
The following photos were taken of weddings at Knox-Elora.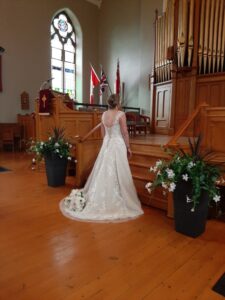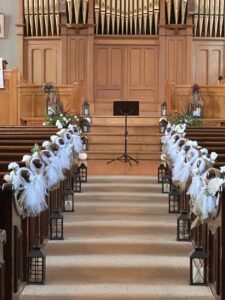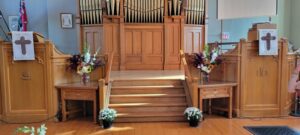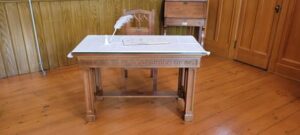 Contact Information
For additional information, please contact our church office by telephone at 519-846-0680, or by email knoxelora@wightman.ca