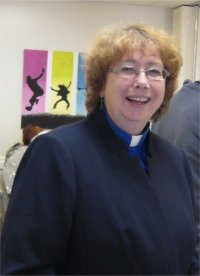 Rev. Susan Clarke and her husband, Malcolm join us from Maitland (Ottawa area) where she was minister at St. Andrew's, Kars for 11 years. Rev. Clarke is a Diaconal Minister and a Minister of Word and Sacraments. During her years in Kars, Susan developed a strong working relationship with the Kars-Osgoode United and Anglican Churches which has led to broader shared ministry in the community.
Susan has a passion for service and a deep love for God's people. Throughout her ministry, she has sought out new ways of service and opportunities for congregants to use their talents. While in Maitland, Susan served on the board of the community centre and was the 2004 Maitland Volunteer of the Year. She served for many years as a Guide and Spark leader as well as two terms as District Commissioner. She was the Coordinator for the In School Mentoring Program for Big Brothers Big Sisters of Leeds and Grenville and helped the program grow from serving nine children in five schools to 100 children in 20 schools. She has assisted with the organization of many community events, including Community Play Group, Parks Program and Women's Wellness Events.
Malcolm has served as a volunteer Fireman in Augusta Township. He sang in a 24 voice "a cappella" choir in Gananoque called "Melodia Monday". He has served as a church school teacher, as a Mason, a Shriner, was a member of the Board of Managers of St. Andrew's, Kars and sang in the church choir. He currently sings in the choirs of Knox-Elora and Alma-St. Andrew's and has joined a local band. He plays violin, guitar and is very proficient at playing the bagpipes.
Susan and Malcolm have three daughters Kathryn (Chris), Maggie and Jessie (Tyler).
Both Susan and Malcolm have quickly endeared themselves to our congregation and we feel truly blessed by this family.